Welcome to Custom Tours by Clarice, Inc.

Custom Tours By Clarice, Inc. is the premier Destination Management Company in northern New Mexico. In the past several years, we have been featured in 5 national magazines and 2 books, and our special events have been featured on HGTV. Our Client List includes many of the world's most prestigious Fortune 500 companies as well as numerous luminaries of the entertainment world.
Our company specializes in tours of Santa Fe as it relates to Route 66. At one time, Santa Fe was on the original Route 66. Let us show you the beauties of Santa Fe and northern New Mexico, including helping you with tours and your hotel accommodations. For groups of 20 or more, we offer our Route 66 party, complete with Route 66 decorations, a fully-catered meal in a beautiful, award-winning Santa Fe home, live entertainment where we encourage everyone to dance, plus we teach you to use the hula hoop and how to do The Stroll and The Hokey Pokey!
In addition to our tours, we are proud to offer Team Building for corporate groups as well as a wide variety of special events for groups. For those events, we use our own special event equipment, including: tables; chairs; dishware; flatware; glassware; props; sets; costumes; pipe and drape; theatrical backdrops; and over 150 cardboard stand-ups as part of our inventory to fully decorate any venue where we produce our events.
Each special event includes a fully-catered meal and live entertainment and is produced in a beautiful Santa Fe home that can comfortably seat up to 50 guests at any one time. In addition, we are glad to offer Step-On Guide service for your groups, and the cost is only $8 per person + gratuity for that service.
Themed Dinners
We are the exclusive agent for off-site venues for corporate functions, family reunions and anniversaries. Below are our most popular Theme Dinners and Special Events at these locations.
All events include a fully-catered meal and are available between April 1 and October 31 for GROUPS of 20 or MORE.
Learn how to do the Hokey Pokey & Stroll as you celebrate the 50's with this rousing party.
Route 66 Group Party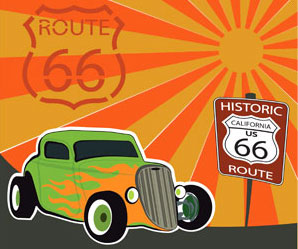 Relive with us the excitement of the days when Route 66 went through Santa Fe! Learn about the history of Santa Fe's proud Hispanic culture as well as the modernization of the town through the arrival of Route 66 and how it affected the growth of our beautiful city! Test your knowledge of Route 66 in our word game and win a Route 66 prize. Numerous Route 66 decorations include life-size cardboard stand-ups of the famous Route 66 logo. Be sure to have your photo taken with that life-size logo for you to keep forever!
Pretend you're Humphrey Bogart and Ingrid Bergman, if for only one night!
Are You Hungry Tonight? - A Salute to Elvis
1920's Speak Easy Dinner and Dancing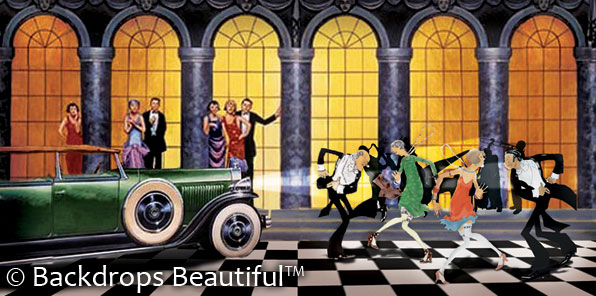 1920's Speak Easy Dinner and Dancing
Welcome or Farewell Parties in Private Homes or Art Galleries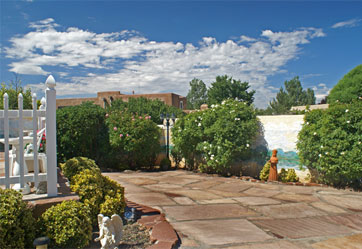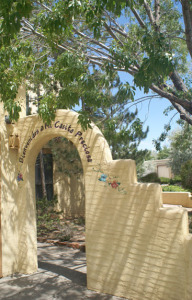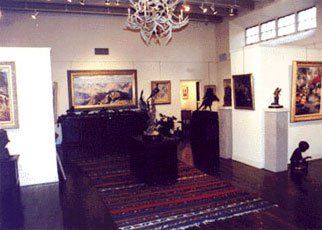 Mexican Fiesta, with Live Mariachis
Gaily decorated tables with falsas and pinatas greet you as you enjoy this night of nostalgia about the Mexican culture and history - ola!